The Tillamore Tales (3T)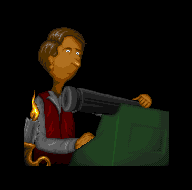 ---
The little animation to the left is supposed to be one artist's impression of one William Tillamore, whose name is sort of a pun in Norwegian. As you have probably guessed already, he is the star (as it were) of The Tillamore Tales.
---
The obvious question is, what is (are) The Tillamore Tales?
At the time being (April 2000), the answer is: Very little, just a handful of ideas. As for what it is supposed to become, the answer is a graphic adventure game.
The story started (As far as I am concerned) in late 93 when one Magnus Vestvoll advertised in a Norwegian Amiga magazine that he was looking for artists to create some graphics for a game project he and his friends were working on. I can't draw anything but my breath, but thought the project sounded interesting and sent him a note to ask if he needed playtesters or help with ideas (which I am pretty good at - well, better than art at least!). We spent the next couple of years discussing the game, and while he did some programming and his friends did some graphics (including the animation above), I kept coming up with ideas and taking over more and more of the plotting. (One of my first deeds was to change the hero's name from Edmund Eremite.) Then one fine day Magnus had to leave the project for personal reasons, and just before everything fell apart I got his permission to take the plot (which by then was 95% mine anyway) and see if I could assemble a new creative team.
And this is where I am today, looking for people to help me get the project back off the ground. What do I need? I'll tell you right after I insert another little graphic to break up the monotony.
---
Don't take this part too seriously, it is just a little collage I Frankensteined together from parts of different graphics Magnus had sent me. This is definitely not what the final game is supposed to be like!

(More graphics here..)
---
What this project needs:
Idea people. Sure, I have me, but experience shows that my imagination works best with a "sparring partner" I can throw ideas at and get some feedback from. I could also use someone to organize all the wild ideas a bit. For this part it doesn't really matter what kind of computer you have, or if you have a computer at all. The first thing you should do to get into the idea team is to read a couple of files I assembled after taking over the project. They should contain all the ideas I have had to date and are found on this server, but they are in a special directory that isn't linked anywhere because I like to keep track of my ideas rather than have them spread out of control all over the net. So you must email me or leave a message on my answering machine to get the name of the directory, and declare that you will not spread the files or URL further without permission (which I won't give, so there). Once you have the URL you are allowed to download the files for offline reading and maybe print them out for easy reference. Only this, and nothing more, as Poe said. Only I don't think he was discussing game development. ;)

Graphics people. As you can tell from this page, I already have a handful of graphics that most probably won't be used for the game. So I need pictures and maybe animations - but not yet. This part will have to wait until the game has solidified sufficiently to go into production, i.e. when the idea phase is more or less finished. And anyone who wants a "job" as a graphician (?) would have to send me some samples of their work - but don't do that yet either! And never under any circumstances send me big files until I say you can - if a lot of people sent me lots of files at the same time my mailbox would overflow. (Well, I can dream can't I?) Any big unsolicited messages arriving in my mailbox will be erased immediately and not answered, so there. The one thing you can do without warning is if you have some of your works on the web [or an FTP site] already, just send me the address and I'll check it out when I get the time.

Programmers, of course. All I have said about graphics goes for programming as well. Magnus did some programming in Amos Professional for the original project, but nothing is settled for the new project yet. It could be done in Amos or some other language. Oh yes, for those who didn't know, Amos is an Amiga programming language. 3T1 (3T part 1) is supposed to become an Amiga game at last at first, other versions may appear later if the first version is successful.
<! ULP???>
---
The game project was sort of officially announced on NATW last year, and after a bit of experimenting I have even managed to include a link directly to the page about my idea. Have a look, and leave a comment while you're there...
---
That should be all for now. Until next time...

---